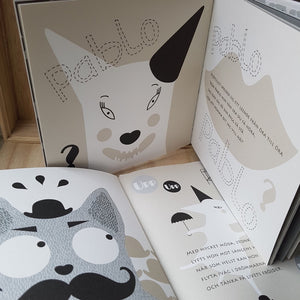 "LOOLIMALOOLI" THE BULL TERRIER BOOK
This little dog is Lotta´s first bull terrier, a loving character that is now in 
a 30 page poetry / tale depicting her funny strive to get up on her Lotta´s
bed to sleep.
The book is an original and in swedish. There is however an English insert
with text translation.
It had its first exhibition I Tokyo Japan spring 2018 and recently in Oktober in
Stockholm. 
Loolimalooli the bull terrier is now an ambassador for Lotta´s and a Japanese
author named maki tzuzumi´s charity to not only help spread knowledge on the
worth of all sensory beings and animal rights but to literally save animals from
euthanisation in Japan.
Learn more about Loolimalooli´s & Fuka´s mission to save friends on facebook
(L & F Mission to save friends).
Lotta works both actively and donates funds to this cause. 
30 pages of illustrations with poetry. Hard back.
 ARTICLE CODE : LM004